Meet the Wellness Team at Back & Body Wellness Centre
Get to Know Us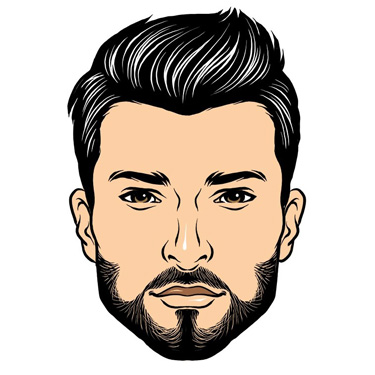 Sal Habash, Kinesiologist
Over my career I have expanded my knowledge through various professional courses on advanced rehabilitation techniques for the neck, shoulders, back and knees. I also specialized in fat loss, gain muscle mass, increase muscle strength, and pain management techniques.
My certifications are:
Bachelor of Science in Kinesiology
Certified Personal Trainer
Functional Assessment Skills of the Spine and Extremities certification (FASE)
Rehabilitation of Spinal Cord Injuries certification
I am a member of British Columbia Association of Kinesiologists (BCAK) and i graduated from the university of Belarus with a Bachelor's degree in Kinesiology and pursued a career in Kinesiology helping patients with spinal cord and brain injuries. In 2006, I moved to British Columbia and carried out an affluent career as a kinesiologist helping cardiac patients, athletes, and patients with work injuries in a variety of settings. I now focus on combining my human kinetic knowledge and personal training expertise to enhance and develop clients of all ages in the rehabilitation and strengthening field. I am extremely enthusiastic about joining Back & Body Wellness Centre and is looking forward to making a remarkable impact on clients' health and lifestyles.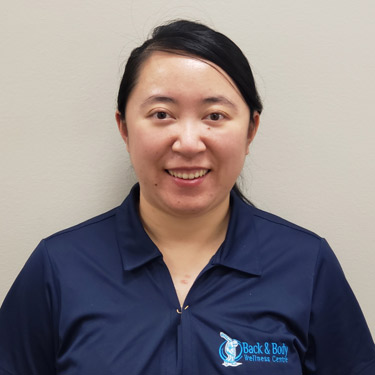 Sophie Liu, Licensed Acupuncturist
Prior to studying acupuncture, Sophie earned her Bachelor of Arts from China. She has graduated from the Acupuncture program at Central College in 2015 and is registered with the CTCMA.
Sophie will assess your condition, give you opinions for treatment and work with you to achieve your desired results. She specializes in digestive issues and pain relief and strongly believe in the body's natural ability is to heal itself with some help from acupuncture.
Sophie delivers effective treatments by different skills such as Acupuncture, Cupping, Acupressure (Tui Na), Scrapping (Gua Sha) and Moxibustion therapy.
In her spare time, Sophie enjoys spending time with family and friends. Sophie looks forward to meeting you and helping you on your journey towards holistic health and wellness.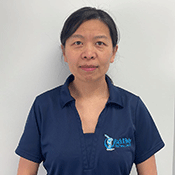 Emily Zhao, Acupuncturist & Herbalist
Emily Zhao received her Doctor's Degree in Traditional Chinese Medicine (TCM) in 2002 from the University of Shanghai. She then worked at Xiamen TCM Hospital in China, the second largest general hospital in a city with a population of one million. This allowed her to acquire great experience increasing the effectiveness of her treatments.
In 2012, Emily Zhao came to Canada, and completed the requirements for the CTCMA in 2014. She has since been registered as a BC registered Acupuncturist and Herbalist. Addressing a Wide Range of Issues With over 15 years of clinical experience, Emily Zhao enjoys helping patients who can benefit from acupuncture.
She has had clinical success addressing various conditions, including the following:
Pain management (arthritis, headaches, musculoskeletal disorders, sports injuries)
Stress-related conditions (insomnia, chronic fatigue, anxiety, depression)
Gynecological health (menstrual problems, PMS, menopause syndrome, fertility, fibroids, endometriosis)
Digestive problems (IBS, indigestion, morning sickness, ulcers, colitis, gastritis)
Neurological conditions (migraines, Bell's Palsy, stroke rehab, Parkinson's disease)
Cardiovascular diseases (CAD, HBP, cardiomyopathy)
Healthy weight management
Seasonal allergies
Immune system dysfunctions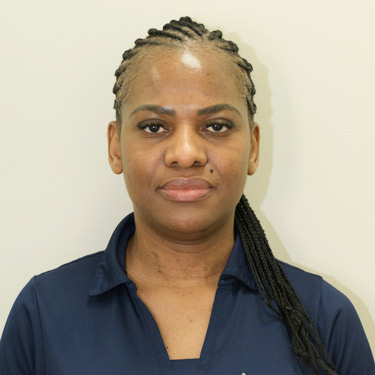 Chikondi, Holistic Bodyworker
Chikondi has been a Bodyworker for 5 years. She combines both Eastern and Western techniques with stretching, acupressure points and moving energy through meridians. She uses a variety of techniques, including deep tissue massage to relax tense muscles while invigorating your body's blood flow.
She is working towards her RMT designation and is also a master in Usui Reiki. With her experience to date, Chikondi has developed her signature style of therapeutic treatment using some Reiki, Craniosacral and chakra balancing techniques to promote further healing. Chikondi loves the challenge of working with those experiencing chronic pain, specifically in the neck shoulders, hips and also those who suffer from headaches and sciatica. Her philosophy for all her work is based on removing obstacles that block our abilities to see, hear, feel and connect more intimately with our own mind, body and spirit.

Meet the Wellness Team at Back & Body Wellness Centre | (604) 594-3808