Prenatal Chiropractic in Surrey & Langley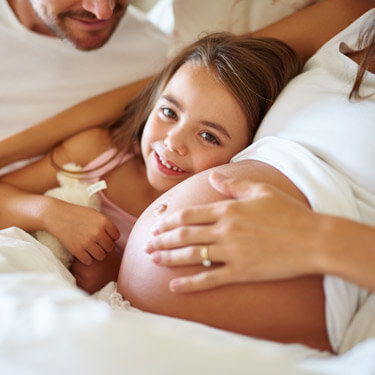 Moms-to-be experience many changes during their pregnancy, with incredible transformations taking place to support and nourish the baby. As your baby grows and your body responds, you may experience several common types of issues. Often, moms-to-be experience discomfort while sitting, standing, walking and lying down, as well as pain in the low back, pelvis or pubic bone.
Gentle Techniques for Mom and Baby
Dr. Pannu is certified in the Webster Technique, with post-graduate training in this gentle method since 2011. This specific analysis and technique reduces nervous system interference and balances the pelvis and ligaments. The Webster Technique is gentle, safe and will balance your body while reducing tension in the spine. A pregnancy pillow and special table allow Dr. Pannu to make it even more comfortable for pregnant moms and ensure a relaxing, calming experience.
Dr. Pannu is a member of the International Chiropractic Pediatric Association (ICPA) and has completed additional hours/courses of post-graduate training in pediatrics through the ICPA. Her focus in practice is family wellness care, pediatrics and pregnancy.
How We May Help
Seeing a chiropractor during your pregnancy is gentle and is used both prenatally and in a post-natal situation. Our goal is to create a more comfortable pregnancy by reducing areas of tension or stress for the mom-to-be. Chiropractic Webster's Technique can help with the following:
Reduction of sciatica/leg pain
Rib cage pain
Pelvic girdle pain
Pubic symphysis pain
Groin pain
Lower back pain and hip pain
Round ligament pain
Waddling
For the baby,
chiropractic care
increases the blood circulation throughout the mom's body, which increases the oxygen available to the baby.
A Doctor Who Understands
When searching for a chiropractor, choose someone who fully understands the discomfort and other symptoms pregnancy can bring about. Dr. Pannu was under weekly chiropractic care with both of her kids and experienced great outcomes from receiving weekly adjustments.
Once the mother gives birth, they can wait a few weeks to return. At that appointment, Dr. Pannu will ensure your SI joint is in place, as well as your pelvic girdle, among other adjustments. It is highly advised to get your pelvis, SI joint and spine checked post birth, to ensure joints are aligned.
Improve Your Pregnancy Experience
Dr. Pannu and her chiropractic team wants you to experience the joy and excitement of pregnancy—without the joint and muscle pain. Contact the office today to make an appointment to see how chiropractic care can benefit you and your baby.

Prenatal Chiropractic Surrey, Langley BC | (604) 594-3808