Custom Orthotics in Surrey & Langley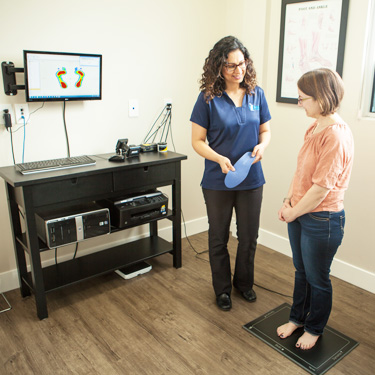 Many forms of pain and stress in the body can originate in the feet. Orthotics are inserts that are used in your shoes to improve alignment and function. The over-the-counter orthotics available in stores are not necessarily meant for your specific problem.
With the custom-designed orthotics at
Back & Body Wellness Centre
, you will know that yours have been created for your foot shape and particular issue for a permanent resolution to your pain.
An Aligned Body for Better Health
Along with properly fitting footwear, orthotics establish a stable alignment of your body. They position your foot and ankle into the ideal position, correcting foot imbalances and restoring your body's biomechanics. Pressure can then be alleviated all over the body including ankles, knees, hips and low back.
A Thorough Evaluation Using Leading Technology
At your first visit to our practice, we will go through a comprehensive process to get your orthotics created. First, we will discuss your history and current complaints. Next, we will proceed with the TOG GaitScan™, an innovative tool for diagnosis and digital casting for orthotics. We use 4096 sensors with a scan rate that takes 300 frames in a second, transmitting them to The Orthotic Group's laboratory in Ontario. Scans are taken of you standing and walking.
Your feet will then be visually examined. Based on all the data collected, we will present the options available for the orthotics you require. An assessment of the spine may be recommended or performed by your practitioner if connected to your complaint. Without this assessment, your visit takes 30 minutes. If you proceed with a spinal evaluation, your appointment will extend to 60 minutes.
Schedule Your Assessment
Contact our practice today to schedule your assessment for custom orthotics.
CONTACT US

Custom Orthotics Surrey, Langley BC | (604) 594-3808