Meet the Chiropractors at Back & Body Wellness Centre
Get to Know Us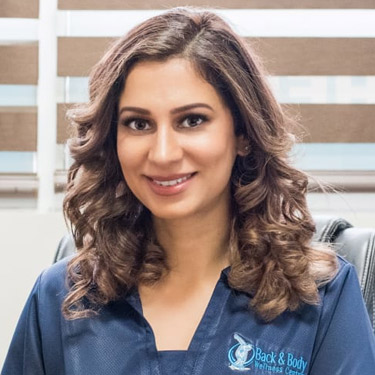 Dr. Jasminder Pannu, Chiropractor
Since childhood, Dr. Pannu's goal was to help people in need. When someone was injured or stressed, she felt an overwhelming urge to assist them in any way possible. She attended Simon Fraser University where she earned a Bachelor of Arts in Psychology and a minor in Early Childhood Education.
Her older brother, already a chiropractor, made her realize she wanted the same type of gratifying career. The idea that the body could heal on its own, without needing drugs or surgery, was intriguing to her. She wanted to give people an opportunity to learn about their natural healing abilities without medication and other external influences.
Dr. Pannu earned a Doctor of Chiropractic from the University of Western States in Portland, Oregon, graduating in 2008. She opened Back & Body Wellness Centre shortly after, focusing on families and treating all ages. Over the years, she has become more passionate about what chiropractic can do for others and enjoys sharing her knowledge with patients.
Dr. Pannu is a member of the International Chiropractic Pediatric Association (ICPA). She is also certified in the Webster Technique.
Additionally, Dr. Pannu is certified in laser therapy and has completed courses in Active Release Techniques. She is a member of the Canadian Chiropractic Association and the British Columbia Chiropractic Association.
Dr. Pannu's life is family-oriented, and she spends her spare time with her loved ones, including a daughter and son. They like to be outdoors, often going to the beach or spending time near the water and having family movie nights. Traveling is another of Dr. Pannu's passions. Her favorite place to visit so far has been Peru thanks to its rich history, beautiful countryside, the ruins of Machu Picchu and the friendly, humble people that live there.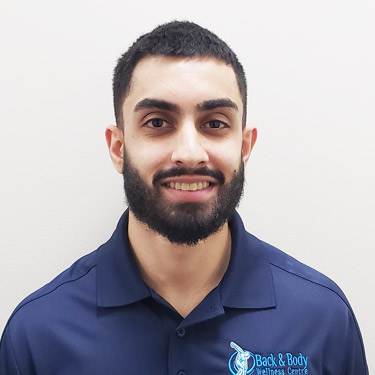 Dr. Sunny Dhindsa, Chiropractor
Dr. Dhindsa has always had a keen interest in helping others get out of pain and live a healthy lifestyle. He completed his undergraduate studies at Simon Fraser University with a focus in Kinesiology as he has always been fascinated with the biomechanics of the human body. He then completed his Doctor of Chiropractic degree at the University of Western States in Portland, Oregon where he graduated with Honours near the top of his class.
He has been a fan of athletics since childhood. He played ice hockey and field hockey growing up and is a former member of the U18 national field hockey team. Due to his interest in sports, he also completed a Master's degree in Sports Medicine from the University of Western States. This allowed him to gain experience working with and treating athletes. He also realized the potential for improved athletic performance with the use of chiropractic care. He uses an evidence-based approach to help guide his treatments for both spinal and extremity injuries. These treatments include adjustments, various soft tissue techniques and rehabilitation programs. He customizes his treatment plans based on the specific needs of each patient. Dr. Dhindsa enjoys working with patients to help them reach both their health and fitness goals.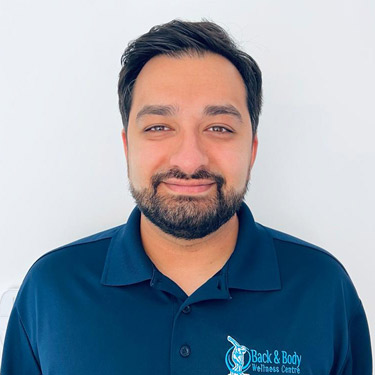 Dr. Hashim Khan, Chiropractor
Dr. Khan graduated from New York Chiropractic College in 2015. As a chiropractor, he firmly believes in addressing the body as a whole and finding and treating the source of the problem rather than just the symptoms. His treatments are designed at improving performance and optimizing function by using evidence-based care. Ultimately, he is passionate about getting his patients to feel and move better.
He has previously practiced in Ontario and Saskatchewan and is excited to settle down in beautiful BC. Prior to attending New York Chiropractic College, Dr. Khan had a multitude of work experiences within the healthcare field. Dr. Khan had previously worked for the Inner-City Health Research Department at St. Michael's Hospital in Toronto. There, as a research assistant, he conducted surveys in the poverty designated areas within the GTA.
He was also a research assistant at the Occupational Therapy (OT) department within the Faculty of Medicine at the University of Toronto. Dr. Khan was also a clinic coordinator at a multidisciplinary walk-in clinic where he helped mediate concerns between patients and physicians.
In his spare time, he enjoys exploring new trails and hikes with his lovely wife and daughter.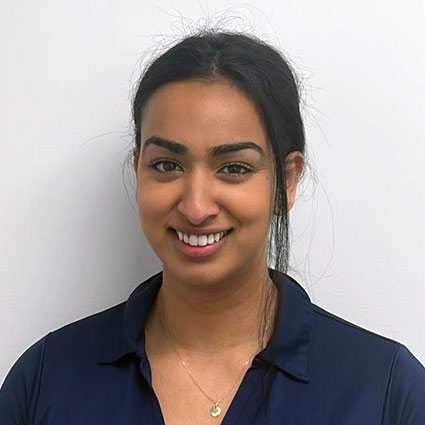 Dr. Meghan Soni, Chiropractor
Dr. Meghan Soni specializes in women's health and rehabilitation, with certifications in ART® and pelvic floor disorders, functional rehab training, and a ten-year background in weightlifting. She provides personalized care that includes manual therapy, active rehab, lifestyle modifications, and coaching to enhance physical health and performance.
She is Vancouver born and raised where she attended Simon Fraser University for Bachelor of Science in Cell biology and Kinesiology which then led her to University of Western States in Portland for chiropractic school. Her ultimate goal is to help patients lead healthy, active lives. In her free time, Dr. Meghan Soni enjoys fashion, weight lifting, and trying new restaurants.

Meet the Chiropractors at Back & Body Wellness Centre | (604) 594-3808