Laser Therapy in Surrey & Langley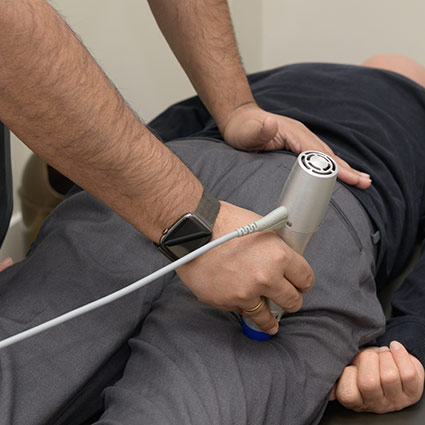 Theralase® is an innovative form of laser therapy that promotes healing at a cellular level. Available at Back & Body Wellness Centre, it is noninvasive & uses cold laser that is employed around the world for its incredible therapeutic effects.
NEW PATIENTS

There are many benefits associated with Theralase, including:
Reverse the signs of aging. Stay young by reducing wrinkles, boosting elastin and collagen production and treat acne, herpes simplex, psoriasis, rosacea, sutures, keloids, scarring, wrinkles, stretch marks, and scars from tummy tucks, breast augmentation or a C-section.
Speed the healing process. If you have an injury or wound, Theralase stimulates new tissue growth. Both neuromuscular and skeletal conditions can be treated, including problems such as a sprain or strain. The laser then targets the affected area.
Alleviate inflammation. Inflammation is the natural response to illness and injury. Normally, inflammation is a part of healing. It can, however, be a slow process that leaves swelling and pain in its wake. Theralase causes vasodilation that improves circulation, in turn causing lymphatic drainage, which will reduce swelling.
Reduce pain. Pain signals can be produced when potassium and sodium are released from the body's cells. Theralase increases the permeability of the cell membrane, which aids in reducing the pain stimulus in the cells.
FAQs
What does Theralase treatment involve?
Pulsing laser light is used to target the body's cells. A red laser beam stimulates cells to produce more ATP in the mitochondria. ATP causes the release of energy within a cell, resulting in quicker cell replication.
No. Theralase operates to stimulate cell growth without high heat. In fact, it relieves pain, penetrating four inches into the body's tissues.
When will I start to feel results?
Your results will depend on your particular situation. Certain people may require only a few weeks of treatment. If you have chronic pain, however, ongoing treatment may work best for you.
How effective is treatment with Theralase?
It shows efficacy rates up to 90%. According to the Theralase website, thousands of studies support the positive effects that result from laser therapy.
Book Today
Contact us today to find out if laser therapy is right for you.
CONTACT US

Laser Therapy Surrey, Langley BC | (604) 594-3808