Meet the Physiotherapists at Back & Body Wellness Centre
Get to Know Us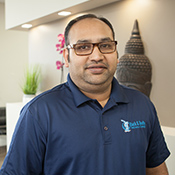 Vinod Kumar, Physiotherapist
I am Vinod Kumar K.V., a physiotherapist at Back & Body Wellness Centre. I was born in the city of Madras, the southern part of India. I always had a keen interest in science but did not know what career choice I was going to make until grade 10. My interest in physiotherapy started when I had to accompany my mother for her physiotherapy treatments. I became wonderstruck about how pain could be managed with all physical means and how healing took place in the most natural way. I realized at that moment that physical therapy was my future.
I did my bachelor's degree at Sri Ramachandra Medical College and Research Institute, Chennai. It is one of the most prestigious universities in Madras, having affiliations with Harvard Medical School and University of South Australia. My bachelor's program laid a strong foundation for my successful career. With the strong guidance of senior staff members and excellent learning opportunities, I graduated successfully.
As my search for knowledge continued, I became more drawn to treating pain and neurological clients. This interest paved the way for my master's degree. I then graduated with a master's degree in physiotherapy with Advanced Physiotherapy in Neurology as my elective. I have certifications in:
Soft Tissue Release
Level 1 Dry Needling certification from Dry Needling Canada
Level 1 Acupuncture certification from APTEI
IMS
Concussion and Vestibular Rehabilitation
Level 1 Physical therapy approach for female and male urinary incontinence from Pelvic Health Solutions
Penile Rehabilitation from Pelvic Health Solutions
Prostate Cancer Rehabilitation from Pelvic Health Solutions
Peyronie's Disease Rehabilitation
Rost Therapy – treatment for pelvic girdle pain in pregnancy and postpartum.
My clinical practice started in 2002 in a small physiotherapy clinic; the clinic expanded its horizons and became a landmark in the locality well within a short span of one year. My clinical practice had an equal share of clients with musculoskeletal and neurological problems. In 2006, I had the opportunity to travel to Sudan to treat a private client due to my expertise in managing stroke clients. I was successful with the venture and spent three months in Sudan to rehabilitate my client.
I moved to Malaysia in 2008 and worked at Masterskill University College. I was eventually promoted to Assistant Program Manager – Clinical for Bachelor's program in Physiotherapy. I then moved to Canada by January 2012 as a permanent resident. I had the chance to work at CBI health center in Surrey. Living in Canada has been a wonderful experience.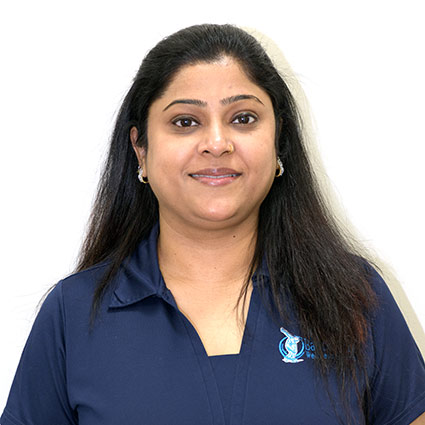 Ramya Prabhasankar, Physiotherapist
Ramya started her career as a physiotherapist in India after completing Bachelor of Physiotherapy at Sri Ramachandra Medical College and Research Institute, Chennai, in 2006. As a physiotherapist, she believes in the hands-on approach. Any pain or weakness in the body leads to inability to move properly. She performs a detailed examination and uses clinical reasoning to determine why her patients are in pain and how to address that pain. Her treatment sessions are always informative and result-oriented so patients can achieve optimal health and well-being.
She developed interest in pelvic floor physiotherapy after coming to Canada. She completed an advanced level course to update her knowledge and experience, and to help woman better. She is currently treating patients with incontinence and dyspareunia (pain during intercourse). Her patients are very happy with her treatment approach and have been experiencing remarkable improvement.
Ramya will take a full history of your bladder and bowel function, sexual function, and medical and surgical history. This history will help her to tailor the best treatment options according to your symptoms. She will also collaborate with other specialists, including a gynecologist, couple therapist, sex therapist, psychiatrist, and chiropractor to make your treatment an interdisciplinary approach for faster healing.
Ramya is fluent in English, Hindi, Tamil and can understand Punjabi. Her specialization is in pelvic physiotherapy. Her certifications are:
Level 1 acupuncture – APTEI
Level 1 Physical therapy approach for female urinary incontinence/ pelvic organ prolapse
Dyspareunia
Diastasis Recti
Ano- rectal disorders
Prenatal and postnatal physiotherapy approach
Breastfeeding assistance, Maternal and infant factors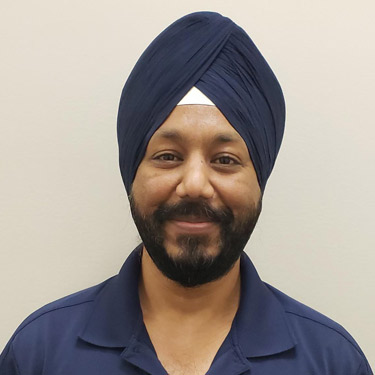 Harpal Dhari, Physiotherapist
Hi, my name is Harpal. I did my Bachelors in Physiotherapy from Baba Farid University of Health Sciences, India. I have 10 years of clinical experience in orthopedics, neurology, workplace injuries, cerebral palsy and post-surgical rehabilitation etc.
My approach to treatment is using soft tissue manipulation, exercise prescription, using modalities as needed, and educating my patients. My focus is not just treating the patient with the issue on hand but helping them understand their body as a whole system, to recover and prevent future problems.
My passions are playing cricket, table tennis, enjoying good food, and spending time with my family.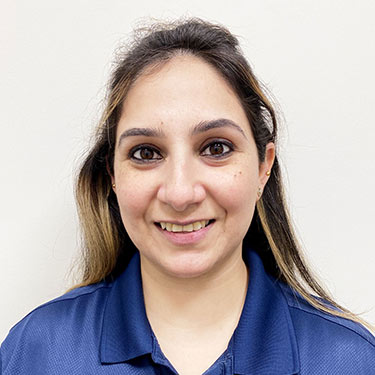 Binant Kaur Litt, Physiotherapist
Binant graduated with a Bachelor of Physiotherapy in 2008. She worked at Fortis Flt. Lt. Rajan Dhall Hospital, New Delhi from 2008-2014 as a senior Physiotherapist and worked as a Rehab Assistant from 2016-2017. Binant currently holds a Registered Physiotherapist license from The College of Physical Therapists of British Columbia (CPTBC) and received Mahila Shiromini Award for Excellence in Physiotherapy from the Institute of Economic Studies (India).
Binant has treated various sports injuries and Neuro-musculoskeletal (NMSK) conditions. Her areas of expertise include Manual therapy (hands on), Myofascial Release, Soft tissue therapy, Trigger point release, and taping. She has a passion for continuing education related to Female health and advanced manual techniques. She has gained a lot of experience in working with ICBC/WCB/PVT/MSP patients. Binant regularly attends conferences specializing in shoulder rehab, sports sciences, manual therapy and basis of current spinal Physiotherapy.
Outside of work, Binant's interests include gardening, traveling, DIY crafts, and binge watching.

Meet the Physiotherapists at Back & Body Wellness Centre | (604) 594-3808