Meet the Office Team at Back & Body Wellness Centre
Get to Know Us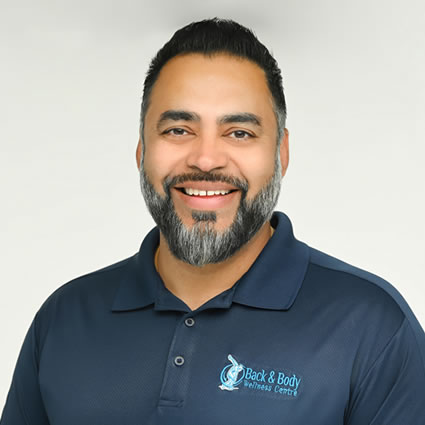 Manny Pannu, Manager
I was born and raised in India. Since my childhood I had a keen interest in learning about business and marketing. I have a Masters in History alongside with a certification as a Microsoft Certified System Engineer (MCSE). I came to Canada in 2003. During my early years in Canada I had to go through struggles in finding the right job that fits my education level.
While working these different jobs I also learned how to manage teams, how to organize work flow, learned how to market companies, how to affectively use social media in business. I attended numerous seminars and business coaching classes to gain more knowledge on how to become a proficient business manager.
I became part of Back & Body Wellness Centre in 2013 as a part time manager while working full time as a Real Estate Agent. In 2017, I transformed the clinic into a multi-disciplinary clinic.
Me and my wife (Dr. Jasminder Pannu) have two small children, and we keep ourselves busy with outdoor activities and family trips. We enjoy travelling to the Carribean, Hawaii, New York and exploring local islands in our beautiful British Columbia.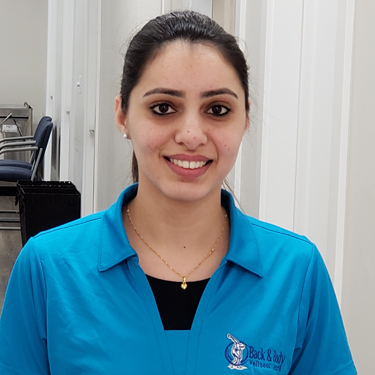 Jaspreet Bagri, Front Desk Manager
My name is Jaspreet Bagri. I was born and raised in India. I am a nurse by profession. Growing up, I could never picture myself doing anything but becoming a nurse. From a family with no medical background, I was the first one to go into the health care field. I did my Bachelors of Science in Nursing from India and upgraded here in Canada. During my study in Canada, I gained excellent Canadian RN experience in my practicum placement.
I later joined a vet clinic and worked as an office assistant and assistant manager for over 2 years. I joined Back & Body Wellness Centre and enjoy working with different practitioners in a multidisciplinary clinic. Working here gives me an opportunity to connect with patients and also allows me to help them in many ways.
I love what I do and I wish to continue doing it for many more years to come.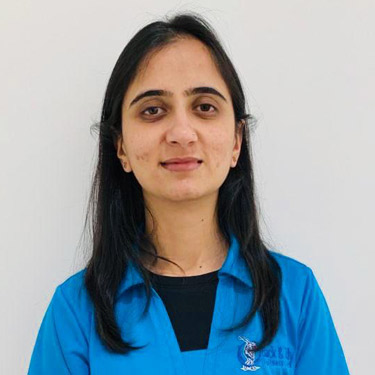 Sandeep Kaur, Medical Office Assistant
I'm a creative young woman with big dreams. I have a Bachelors in Dental Surgery from India and my interest in administration led me to Canada. I graduated from St. Lawrence College and Vancouver Community College for the Health care administration and Administrative Assistant programs. I have always aspired to expand my knowledge and after my graduation, I was focused on the administrative part of the medical field. Working as a Medical Office Assistant (MOA) is a step forward in my career.
It's a great opportunity for displaying my strong customer service skills by treating every patient with dignity and respect, setting high standards of patient care and safety. I'm grateful for helping the diverse community as my skills and strength fully take part in my job.
It is my pleasure working at Back & Body Wellness Centre. Every staff member is equipped with their own unique skills. There is a lot to learn and share. We all work cohesively as a team, always conveying a positive image and building positive relationships with our patients.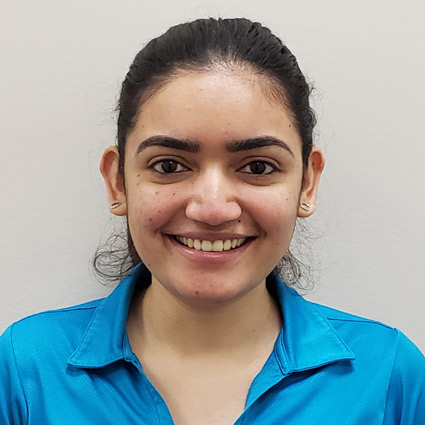 Manjot Kaur, Medical Office Assistant
Hello, my name is Manjot Kaur. I was born and raised in India. I graduated with a diploma in Health Sciences from Langara College, Vancouver. As a long term goal, I am planning to pursue studies in Counseling Psychology one day.
It really interests me how one's physical, emotional and mental health plays a role in improving their sense of well-being. When I came to know about the stigma and discrimination associated with mental health and illness, I started thinking about learning more about this field of study. This is when I realized that many people are unwilling to seek help due to fear of what others may think. Thus, I want to explore this area of research specifically because I have always felt an urge to help people and make them feel comfortable with talking about anything that makes a difference in their overall well-being.
Working at Back & Body Wellness Centre is a great opportunity to help others and is one step closer to reaching my goal. I am really excited about working here and am looking forward to helping patients in the best possible way.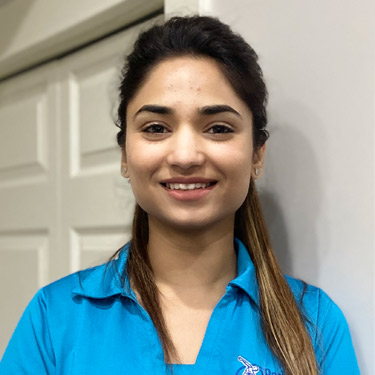 Arshpreet Kaur, Medical Office Assistant
My name is Arshpreet Kaur and I am from India. I have completed my bachelors of nursing in my home country and currently I am enrolled in health safety program. Working in health care sector is a honour for me as it provides me with great opportunities to help people in various ways and to expand my knowledge and capabilities. Back in India, I worked as a nurse which was a great experience and currently I am working as a Medical office assistant in this clinic.
Back & Body Wellness Centre has given me this opportunity to gain experience by working with different practitioners and dealing with different people on daily basis. I love working here as it brings me positive energy and makes me connected with my goals.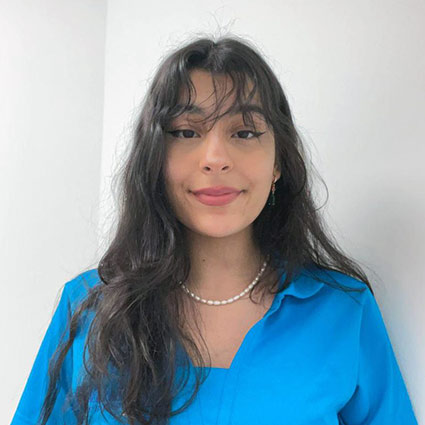 Maya Istafanous, Medical Office Assistant
Hi, my name is Maya Istafanous. I am currently a student at Simon Fraser University, studying health sciences and working towards finishing my bachelor's degree of science. Judging by my choice of studies, I have always had a fascination for the sciences, especially the medical system. Working towards having experience and knowledge in the field ever since high school, by volunteering at hospitals and clinics throughout BC.
My passion for healthcare and desire to make a positive impact in people's lives drove me towards this occupation. I was permitted to explore the depth of my field further by working as a medical office assistant at Back & Body Wellness Centre. An opportunity that has granted me not only the privilege of having first-hand experience in my field and furthering my knowledge; but has allowed me to also work alongside many brilliant and experienced practitioners. Most importantly, however, this position has allowed me to be of direct aid to many individuals, being a tool in improving their health.
I feel incredibly fortunate to be in a position where my work is meaningful, and I'm making a difference in people's lives. I'm grateful every day to have a career that allows me to grow, learn, and support those in need.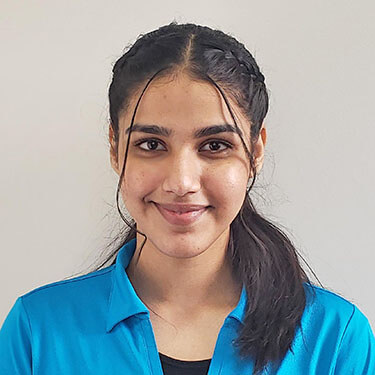 Arshdeep Kaur, Medical Office Assistant
Hi, I am Arshdeep Kaur. I was born and raised in the Philippines. I am currently in my second year of studies towards a Bachelor's degree in Health Sciences.
I have always been interested in the sciences and passionate about the desire to help people, so it became obvious to me that a career in the medical field would be the perfect fit between my passion and interest. Being able to work as a medical office assistant in Body and Back Wellness Center is an opportunity that I am very grateful for, since not only do I get to make a difference in people's lives daily, but also learn from the experiences and knowledge of the different practitioners.
I believe that being a MOA will help me enhance my abilities to better serve patients with the utmost level of care. It is also a rewarding experience that has helped me practice compassion and empathy in my daily life.
I am excited to continuously learn and improve my customer service and administrative skills with the help of our wonderful team at the clinic, so that we may collectively lead our patients to achieving wellness in all aspects of their lives.

Meet the Office Team at Back & Body Wellness Centre | (604) 594-3808