New Patients
Welcome to Back & Body Wellness Centre. Our Surrey facility is a relaxing, tranquil place where you will feel comfortable the moment you enter. Music is playing softly in your private treatment room-our patients have even been known to fall asleep on the table.
Preparing for Your Initial Appointment
We recommend that you arrive 15 minutes early to complete paperwork. When you walk into our comforting clinic, you will be given some forms to fill out, which our staff will explain to you and assist you with. Please bring in your care card and extended health card, as we do extensive billing for most companies.
If it is ICBC or WCB related injuries, please provide us with your claim numbers, most preferably when you are initially booking your appointment, so we can get it approved before your first treatment.
A Thorough Evaluation and Treatment
Once you have completed paperwork, you will be brought to a private room, where you may have to change into a gown and shorts for the examination part. Then, your practitioner will introduce themselves and discuss your health history and particular issues. We will go over your health history, what has brought you in and what your goals are.
This examination process allows us to evaluate which areas of your body need treatment. After explaining what the treatment involves and having you sign a consent form, the treatment may be provided.
Home care exercises or other activities may be prescribed to enhance the effectiveness of your treatment plan.
The treatment session times are different for each service. When you are booking your appointments initially, our receptionists will provide you all the details.
We also have convenient appointments available for our other services. Find out what to expect when you come in for the following:
Please click on each service to know what to expect from your appointment: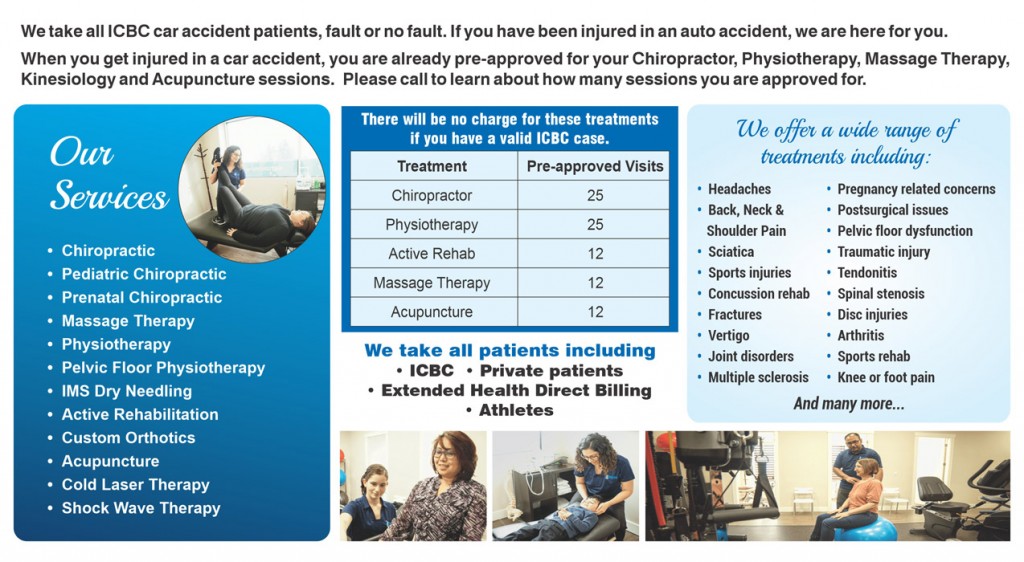 Restoring Your Health
Your chiropractor will recommend a care plan to you that details the frequency of visits for the coming weeks. When that period is complete, a reassessment will be done and your care plan adapted to your changing needs.
Contact our friendly team today to schedule your appointment.
CONTACT US »
We Provide Direct Billing for the Following Insurance Companies:


New Patients | (604) 594-3808