Acupuncture in Surrey
Experience a healing modality that is gentle, effective for relieving many chronic ailments and gives you an alternative to medications and surgery. Acupuncture, available at Back & Body Wellness Centre, can help with the following issues:
Asthma
Cervical spondylosis
Drug abuse and alcoholism
Fertility challenges
Frozen shoulder
Gastrointestinal disorders
Headaches
Insomnia
Gynecological and obstetric concerns
Pain management
Paralysis
Pregnancy-related concerns
Sciatica
Sexual problems
Smoking cessation
Stroke
Tennis elbow
Weight loss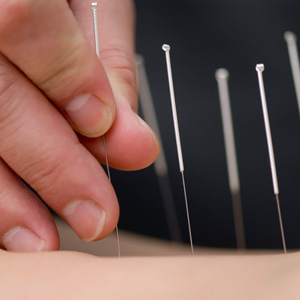 FAQs
Acupuncture involves a collection of procedures that penetrate the skin with needles to cause a response in different parts of the body. It is an ancient form of Chinese medicine and has been used for thousands of years, making it one of the oldest medical techniques in the world.
There are certain points in the body that have a designated electrical sensitivity. The insertion of thin needles targets sensory receptors that transmit impulses to the brain. In turn, endorphins and neurotransmitters are released, which are the body's natural painkillers.
These substances help your entire body relax and regulate serotonin. Serotonin release allows for the treatment of depression with acupuncture.
What makes acupuncture so effective?
By addressing the root of the problem, this holistic medicine often works well for those that have not gotten results with Western medicine. There is a low probability of any side effects occurring.
No, acupuncture is not painful. You may feel a tingling sensation during treatment. Afterward, patients commonly report feeling extraordinarily relaxed or exhilarated. With doweled ends, acupuncture needles are not the same as other needles you may have encountered.
When you see a licensed, fully trained acupuncturist, it is extremely safe. Our practitioners are qualified and experienced.
Is there anyone who cannot receive acupuncture?
There are only a few situations in which acupuncture is not appropriate. If you have a hemophiliac or psychotic condition or are under the influence or alcohol or drugs, we do not recommend acupuncture.
Contact our team today to schedule your time for acupuncture Surrey.
CONTACT US »

Acupuncture Surrey | (604) 594-3808