Back Pain Relief in Surrey & Langley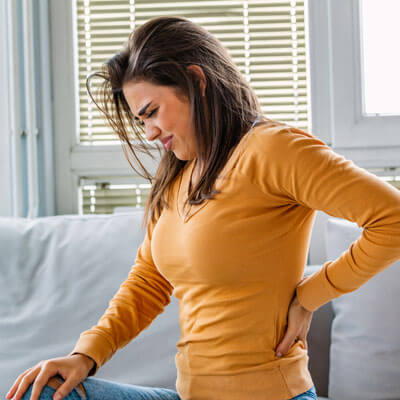 Do you struggle with back pain, whether it's from former sports injuries, car accidents, arthritis, degenerative disc disease, or even poor posture? If yes, the Back & Body Wellness Centre team is highly skilled in comprehensive chiropractic care methods and related modalities that will get you back on your way to living life pain-free.
Understanding the Many Causes of Back Discomfort
Often, we endure years of back problems in silence, but the pain is ever-present. We feel it when we get up in the morning, or when we try to hold our children or grandchildren, and even when we try to participate in our favorite hobbies, like athletics and gardening.
Often, in the absence of an accident or some other direct injury to our body, our lifestyle is to blame.
We might have poor posture at work and home, which weakens the muscles and ligaments in our back and can exacerbate other issues like sciatic pain. We may lift heavy objects as part of our career and spend years lifting them incorrectly. Our age, carrying excess weight, and a lack of exercise are also large contributors to back pain.
There are also naturally occurring joint mobility issues and restrictions that can cause us pain as well. But, no matter what the cause, our chiropractic team will work to identify the root issues of your back pain and discomfort and work toward improved health and wellness.
NEW PATIENTS

The Back & Body Wellness Centre Difference
When you are a patient here, you will have a trusted, highly skilled chiropractor to help you toward optimal health and an improved lifestyle during each step of your journey. Patients will often find relief following their first visit and will experience increased mobility within the first few visits.
One recent patient had their lives changed following several weeks of back pain. With a job in labor, he had a difficult time bending and wasn't active in stretching or exercising. Within three visits and doing yoga to complement his chiropractic care, his back pain ceased immediately. He stood with better posture and had more mobility throughout his body, and he continues maintenance visits to help prevent it from happening again.
In combination with the at-home stretches, take-home chiropractic exercises, and related modalities like yoga, what was once a pain preventing you from living your life to the fullest will be a body that allows you to do all the things you love and more of it!
Banish Back Pain & Return to What You Love
If you are ready to find a path toward less back pain, our highly skilled chiropractic team is here to help. Contact us today to take the first step toward embracing life again!

Back Pain Relief Surrey, Langley BC | (604) 594-3808