Jaspreet Bagri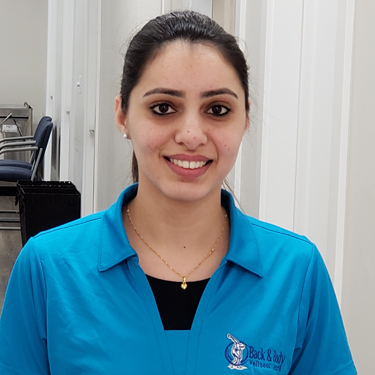 Medical Office Assistant
My name is Jaspreet Bagri. I was born and raised in India. I am a nurse by profession. Growing up, I could never picture myself doing anything but becoming a nurse. From a family with no medical background, I was the first one to go into the health care field. I did my Bachelors of Science in Nursing from India and upgraded here in Canada. During my study in Canada, I gained excellent Canadian RN experience in my practicum placement.
I later joined a vet clinic and worked as an office assistant and assistant manager for over 2 years. I joined Back and Body Wellness Centre and enjoy working with different practitioners in a multidisciplinary clinic. Working here gives me an opportunity to connect with patients and also allows me to help them in many ways.
I love what I do and I wish to continue doing it for many more years to come.
Contact our Surrey practice today to book an appointment!
CONTACT US »


Back & Body Wellness Centre | (604) 594-3808