Meet Dr. Sunny Dhindsa
Chiropractor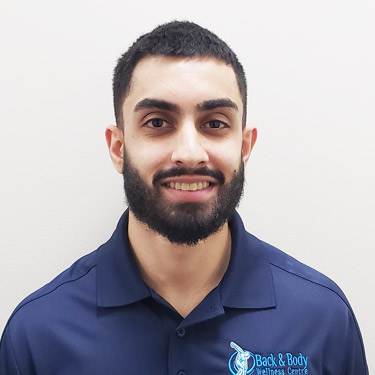 Dr. Dhindsa has always had a keen interest in helping others get out of pain and live a healthy lifestyle. He completed his undergraduate studies at Simon Fraser University with a focus in Kinesiology as he has always been fascinated with the biomechanics of the human body. He then completed his Doctor of Chiropractic degree at the University of Western States in Portland, Oregon where he graduated with Honours near the top of his class.
He has been a fan of athletics since childhood. He played ice hockey and field hockey growing up and is a former member of the U18 national field hockey team. Due to his interest in sports, he also completed a Master's degree in Sports Medicine from the University of Western States. This allowed him to gain experience working with and treating athletes. He also realized the potential for improved athletic performance with the use of chiropractic care. He uses an evidence-based approach to help guide his treatments for both spinal and extremity injuries. These treatments include adjustments, various soft tissue techniques and rehabilitation programs. He customizes his treatment plans based on the specific needs of each patient. Dr. Dhindsa enjoys working with patients to help them reach both their health and fitness goals.
Contact our Surrey team today to learn more about what we may be able to do for you.

Dr. Sunny Dhindsa | (604) 594-3808