Zach Hewko
Registered Massage Therapist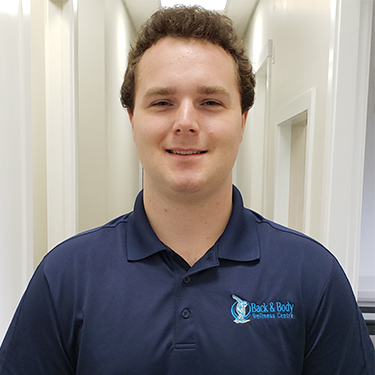 Hi! I'm Zach.
I grew up in Kitsilano Vancouver. Throughout my education I had a passion for sports, rehab and anatomy. Growing up playing hockey, baseball and soccer led me to want a career in rehabilitation. I met a lot of injuries over the years and received an assortment of help and rehab. Getting to see first hand how trained professionals can help with injuries was very inspiring.
Working as an RMT has provided me the toolset and environment to fully realize these passions. I completed my 3,000 hour RMT program in August 2017 and I hope to see many patients and help them achieve their therapeutic goals at Back & Body Wellness Centre.
One of my favourite skills I use is Cross Fibre Frictions (XFF). It's one the most provocative but effective tools in an RMTs belt. The case study I wrote in school details its use for chronically inflamed joints and bursitis. My study examined its application to the shoulder. It follows, that I tend to focus this technique on the shoulder. Shoulders can see such vast improvement in so little time, and this is why I focus XFF on this joint. I feel I can really improve this skill by spending my efforts wisely. Due to the intensity of XFF it requires strict communication with your patient. This is a great thing though because anytime I can explain the anatomy and conditions to a patient is priceless. I find it very important to explain the mechanics of the joints I work on but my study gave me a much deeper appreciation of all the moving parts of the shoulder complex and the injuries that occur. I have seen tremendous results across the board with this technique, restored/increased ranges of motion and extinguished/decreased pain.
Anytime I can go through the situation and set a game plan with a patient is a treasured experience and XFF are, time and time again, a great tool for the job.
I'm thrilled to join this energetic community of staff and patients alike.

Back & Body Wellness Centre | (604) 594-3808