Sunnyan Sharma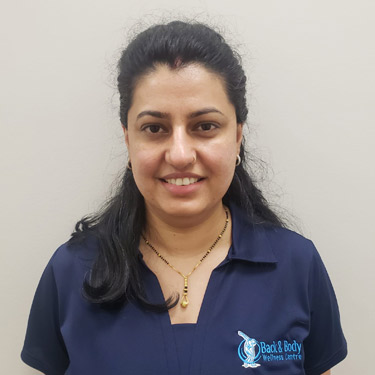 Registered Massage Therapist
My name is Sunny. I moved to Canada in 2012 and did my diploma from CDI college in massage therapy in June 2021. I enjoy spending time with my family, especially my young children.
My goal as a RMT is to help all my Back & Body Wellness Centre patients with decreasing their pain and providing outstanding care. My areas of expertise are myofascial trigger point technique, pressure point technique, cross- fibre friction technique, myofascial release, and joint play.
I have a passion for pre and post natal massage and focus on doing additional continuing education courses related to female health.
The effects of massage therapy are physiological and psychological in nature. Massage has a good effect on all systems of the body that includes lymphatic system, circulation, respiratory system and immune system.
Contact our Surrey practice today to book an appointment!
CONTACT US »


Sunnyan Sharma | (604) 594-3808