Ramya Prabhasankar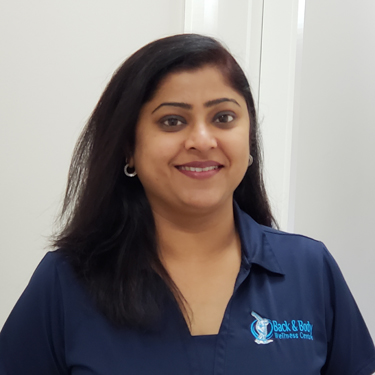 Physiotherapist
Ramya started her career as a physiotherapist in India after completing Bachelor of Physiotherapy at Sri Ramachandra Medical College and Research Institute, Chennai, in 2006. As a physiotherapist, she believes in the hands-on approach. Any pain or weakness in the body leads to inability to move properly. She performs a detailed examination and uses clinical reasoning to determine why her patients are in pain and how to address that pain. Her treatment sessions are always informative and result-oriented so patients can achieve optimal health and well-being.
She developed interest in pelvic floor physiotherapy after coming to Canada. She completed an advanced level course to update her knowledge and experience, and to help woman better. She is currently treating patients with incontinence and dyspareunia (pain during intercourse). Her patients are very happy with her treatment approach and have been experiencing remarkable improvement.
Ramya will take a full history of your bladder and bowel function, sexual function, and medical and surgical history. This history will help her to tailor the best treatment options according to your symptoms. She will also collaborate with other specialists, including a gynecologist, couple therapist, sex therapist, psychiatrist, and chiropractor to make your treatment an interdisciplinary approach for faster healing.
Ramya is fluent in English, Hindi, Tamil and can understand Punjabi. Her specialization is in pelvic physiotherapy.
Certifications
Level 1 acupuncture – APTEI
Level 1 Physical therapy approach for female urinary incontinence
Dyspareunia
Book an Appointment
If you're ready to go from pain to bliss, contact us today to book an appointment with Ramya!
CONTACT US »

Back & Body Wellness Centre | (604) 594-3808