Meet Dr. Kiran Sidhu
Chiropractor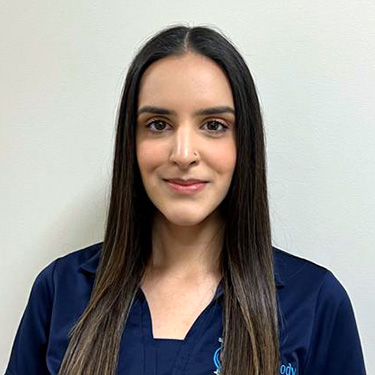 Dr. Kiran Sidhu began her education journey studying Kinesiology at the University of British Columbia where she first discovered her passion for learning about the human body. She later completed her Bachelor in Human Biology at the University of Western States in Portland, Oregon and went on to obtain her Doctorate of Chiropractic degree from the University of Western States as well.
Dr. Sidhu has seen a chiropractor for the majority of her life for various injuries and had always aspired to be able to provide the same level of care to others one day. She has experience treating a wide variety of patients of all ages and concerns including those suffering from aches and pains after motor vehicle accidents, pregnant patients, those dealing with sports injuries, and patients suffering from neck and back pain from desk jobs. Her treatment plan is tailored to each individual patient and consists of chiropractic manipulative therapy, and various soft tissue therapy techniques (instrument-assisted, trigger point therapy). She also demonstrates and educates patients on active care at home such as performing stretches in her treatment plan and focuses on rehabilitation exercises to strengthen weak musculature, thus minimizing the chances of the injury reoccurring.
Outside of the Practice
In her spare time Dr. Sidhu loves to be active through working out at the gym or running, reading, cooking, and spending time with her loved ones.
Contact our Surrey team today to learn more about what we may be able to do for you.

Dr. Kiran Sidhu | (604) 594-3808